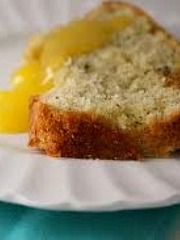 Fun Fact: Long, long ago, it was the Greeks who discovered that crushed lavender would release a relaxing fume when burned.
These days, lavender is not only popular for its fragrance, but also for its distinct flavor. This beautiful purple flower lends a floral and slightly sweet flavor to any dish — so light and fresh, it just screams summer! Parties That Cook's Lavender Tea Cake recipe provides a great opportunity to use your own, fresh, home-grown lavender or dried lavender from the store. If you're lucky, you'll be making this delicious dessert at our upcoming Date Night Couples Cooking Classes or Sizzle & Swirl Cooking Classes!
Warm Lavender Tea Cakes with Homemade Lemon Curd
This recipe can also be found in our Dessert Recipes Section.
Ingredients
Lemon Curd:
1/3 cup lemon juice
1 lemon, zested
1/2 cup sugar
3 eggs
1 egg yolk
1/2 cup unsalted butter, cut into pieces
Ice bath
Lavender Cake:
3 cups all-purpose flour
2 teaspoons baking powder
1/2 teaspoon baking soda
1/2 teaspoon salt
2 cup granulated sugar
10 Tablespoons unsalted butter, softened
1 teaspoon vanilla extract
2 large whole eggs
2 large egg whites
2 cups plain low fat yogurt
2 tablespoons lavender flowers (not petals or stems), finely chopped
Nonstick spray
Parchment paper
Powdered sugar for dusting
Methods/Steps
Make Lemon Curd: Set up a double boiler by filling a sauce pan halfway with water and bring it up to a simmer. In a medium bowl whisk together lemon juice, zest, sugar, eggs and yolk. Add the butter.  Place bowl over the pot of simmering water.  Note: Be sure the bottom of the bowl is not touching the water below it! Whisk steadily, but gently, until curd becomes thick and pale and creamy, about 10 to 15 minutes. Remove from heat, strain into a small bowl and chill on top of an ice bath until ready to use.
Preheat oven to 350°F.
Prepare Pan: Spray a half sheet pan (12-7/8" x 17-3/4") with nonstick baking spray. Cut a sheet of parchment paper to fit the pan and place it on the sprayed pan. Spray the parchment paper as well.
Combine Dry Ingredients: Whisk flour, baking powder, baking soda, and salt into a bowl. Set aside until ready to use.
Cream Ingredients: Beat granulated sugar, butter, and vanilla until well-blended. Break eggs and egg whites into a small bowl or measuring cup and add them into the mixture one at a time. Beat well after each addition. Next, add half of the flour and mix gently. Add the yogurt, then mix briefly and finish with the rest of the flour. Stir in lavender. Do not over mix or cake will be tough. The batter will be very thick.

Bake: Spoon the batter into the prepared pan. Use an offset spatula or palette knife dipped in hot water to spread batter into the pan. Bake for 15- 20 minutes or until a sharp knife or cake tester inserted in the center comes out clean.
Serve: Cool cake in pan for 10 minutes. Run a knife around the edge of the pan and gently invert pan onto a large cutting board. Remove parchment paper and dust the entire cake with powdered sugar. Cut cake into 4 quarters by cutting down the middle both width- and length-wise. Cut each quarter into 12 squares to yield 48 – 2 inch squares. Place onto a serving platter. Transfer the lemon curd into a serving bowl and place next to the warm cake.
Recipe created by Parties That Cook® www.PartiesThatCook.com
For a few San Francisco restaurants serving dishes featuring edible flowers, check out 7×7 Magazine's article here.