Just because summer may be coming to a close, doesn't mean the warm weather immediately disappears. In fact, for some, (like those in SF) the real summer warmth has yet to begin. Cool down as we transition into fall with this deliciously refreshing recipe for lettuce cups filled with gingery chicken! Try them out for your Labor Day bash, or whip them up for a weeknight family dinner — we all know your time is precious now that the kids are back in school! With the cooking done quickly in a wok or skillet, you'll have plenty of time to enjoy the summer sun or savor your free time in the evening.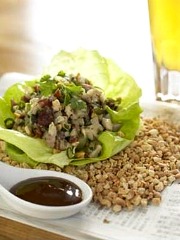 Lettuce Cups Filled with Minced Gingered Chicken, Peanuts and Hoisin Sauce
Try this recipe with Pork or check out more tasty appetizers in our Appetizer Recipe Library!
Ingredients
Lettuce Cups:
2 heads butter lettuce
Minced Gingered Chicken:
3/4 pound boneless, skinless chicken thighs, finely minced
1 Tablespoon soy sauce
1 teaspoon cornstarch
2 Tablespoons Lap Chang Chinese sausage, finely diced*
3 cloves garlic, minced
1 1/2 teaspoons fresh ginger, finely minced
1/2 cup (6 small caps) fresh shiitake mushrooms, stems removed, finely chopped
3/4 cup minced water chestnuts, drained and minced
3 scallions, finely sliced
2 Tablespoon cilantro, finely chopped
3 Tablespoons roasted peanuts, coarsely chopped
1 Tablespoon oyster sauce
1 1/2 Tablespoons canola oil
Pinch of ground pepper
1/4 cup chicken broth or water
1 Tablespoon toasted sesame oil
1/4 cup hoisin sauce
Cilantro leaves and chopped peanuts for garnish
Methods/Steps
Grind Chicken: Grind the chicken thighs in a food processor until coarsely ground or minced. Combine the ground chicken, soy sauce and cornstarch in a large bowl. Set aside.
Chop Ingredients: Mince the garlic and the ginger. Set aside. Remove and discard the mushroom stems. Finely chop the mushrooms and set aside. Drain and mince the water chestnuts, slice the scallions and cilantro. Roughly chop the peanuts. Set all ingredients aside until ready to stir fry.
Stir Fry: In a wok or large skillet over high heat, heat 1/2 of the canola oil. Add the Chinese sausage and cook until sausage has rendered, about 1 minute. Remove from pan (or if using a wok, push to the side). Add remaining oil. Add the garlic and ginger and sauté for 1 minute. Add the ground chicken mixture and cook until the chicken is brown, about 3 minutes. Reduce heat to medium. Add chopped shiitakes, oyster sauce, pepper and chicken broth. Cook until sauce thickens and coats the chicken. Toss in water chestnuts and the reserved sausage. Remove from heat and add the chopped scallion and cilantro. Drizzle with sesame oil. Toss to combine.
Assemble and Serve: Brush each lettuce cup lightly with hoisin sauce. Spoon warm chicken mixture into chilled lettuce cups. Sprinkle with peanuts and garnish with a sprig of cilantro. Serve immediately. Put extra hoisin sauce on table if desired.
Recipe adapted by Parties That Cook® www.PartiesThatCook.com from The San Francisco Chronicle.
*Lap Chang-A dried, hard sausage usually made from pork and a high content of fat. It is normally smoked, sweetened, and seasoned with Rose water, rice wine and soy sauce. It can be found in Asian markets and sometimes in the Asian section of better grocery stores.