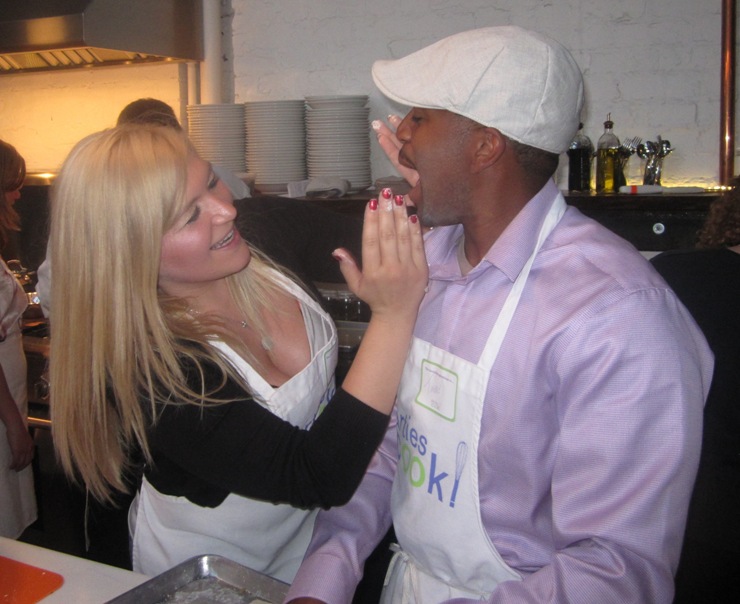 Hoping to have a HOT Valentine's Day or date night? We can help you spice things up and bake your way to your lover's heart with this recipe for Chocolate Chipotle Cakes with Sweet Tomatillo Sauce. Chipotle chilies definitely pack a punch, so feel free to decrease the quantity if you'd rather stick to your sweet side. If you're anything like us, you'll want to turn up the heat and make 'em sweat — in the best way.
Need some professional help wooing your date on Valentine's Day? Check out our couples cooking classes, and let Parties That Cook's skilled team of professional chefs be your guide! Our full list of classes can be found here.
Boca Negra: Chocolate Chipotle Cakes with Sweet Tomatillo Sauce
This recipe can also be found in our Dessert Recipe Library!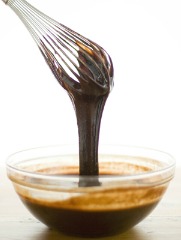 Ingredients
Ramekins:
2 Tablespoons butter, melted
3 Tablespoons granulated sugar
Cakes:
4 medium dried chipotle chilies
1/4 cup + 2 Tablespoons fresh orange juice (about two large Navel oranges)
1 cup granulated sugar
10 ounce good quality semisweet chocolate, finely chopped
1 1/2 sticks (3/4 cup) unsalted butter, cut into small pieces
4 large eggs
1 Tablespoon + 1 teaspoon all-purpose flour
1/8 teaspoon kosher salt
Sauce:
1/2 vanilla bean, split lengthwise
1/2 pound small fresh tomatillos, husked, rinsed, and coarsely chopped
1/2 cup brown sugar
1/4 cup water
1 (1-inch) piece cinnamon stick
1/4 teaspoon salt
Garnish:
Thin strips of orange zest from one orange, for garnish
Methods/Steps
Preheat oven to 300ºF.
Prepare Ramekins: Lightly butter 8 small ramekins. Dust ramekins with granulated sugar.
Puree Chilies: In a dry sauté pan toast chilies over moderate heat, turning until fragrant, 1 to 2 minutes. Discard stems, seeds and ribs, then soak chilies in hot water until softened, about 15 minutes. Remove chilies and reserve soaking liquid. In a mini food processor/blender, purée chilies, adding 3 Tablespoons of soaking liquid as needed to form a paste. Force paste through a fine-mesh sieve into a bowl and discard solids. Set aside 1 Tablespoons chili paste. (Rinse blender. You will use it again to make the sauce.)
Make Cake: In a small saucepan, bring juice and sugar to a boil, stirring until sugar is dissolved. Put the chopped chocolate in a large bowl and pour in the hot syrup, stirring until chocolate is melted. Add butter and stir until melted and combined. Add eggs 1 at a time, whisking after each addition, then stir in chili paste, flour and salt.
Bake Cakes: Place ramekins on a sheet pan and divide batter among ramekins. Bake uncovered, until completely set and a crust has formed on top, about 45 minutes. Remove ramekins and place on a cooling rack for 2 minutes.
Make Sauce: In a small saucepan, scrape seeds from vanilla bean using a paring knife, add bean, tomatillos, brown sugar, water and cinnamon stick. Simmer uncovered, over moderate heat, stirring occasionally, until tomatillos are very tender, about 15 minutes. Remove vanilla bean and cinnamon stick, then purée tomatillo mixture in blender until smooth. Cover the blender with a towel as it can spit. Cool completely, and then chill in the freezer, covered, until cold.
Serve Cakes: Serve in the ramekin with a spoonful of sauce on top and garnished with orange zest. Extra sauce can be served tableside in a pitcher.
Serves/Makes
Serves 8