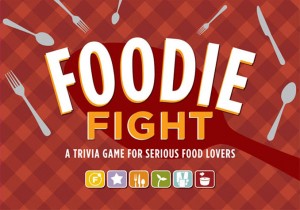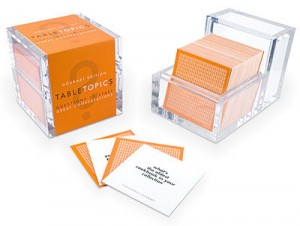 With only a week left to shop for the perfect holiday present, what better gift to give than food games! It's a foolproof gift idea for any party host, foodie or gourmet connoisseur.
Food games can also serve as inexpensive party entertainment for your holiday gathering or New Year's dinner party. Break the ice and get the conversation started with these games. Here are some of our favorites:
Foodie Fight: A Trivia Game for Serious Food Lovers
Wine Wars: A Trivia Game for Wine Geeks and Wannabes
Cork jester's Wine Teasers Wine Game  
Winerd Wine Trivia and Blind Tasting Board Game
Reveal Entertainment Food Lovers Trivia Game
Eat It! Snacks & Sweets Trivia Game
Table Topics Conversation Cards – Gourmet Edition
Table Topics Conversation Cards – Dinner Party Edition
Celebrity Chef! The Game
What's Cookin?
Wine-Opoly
For more hands-on fun with food or wine, try:
Fusebox Blending Kits– For any wine enthusiast, these kits are the first step in creating your own wine blend. Gather some friends and create your own unique blend!
At-Home Cooking Party with a Sumptuous Small Plates Recipe Deck– Use our recipe deck to supply your guests with a recipe card and have then whip up a delicious appetizer.
Still not sure which gift to give this holiday season? Purchase a Parties That Cook gift certificate for any of our cooking classes!