It is officially Crunch Time. If you are like the majority of individuals with busy bee lives, you let the month of October slip by without taking the time to make your Halloween game plan. Not to fear, Parties That Cook is here! (Can you tell who the adult in the homemade superhero costume is going to be?) These delicious Pumpkin Spice Cupcakes with Cream Cheese Buttercream Frosting are so easy to make, you might just be able to find your Halloween costume while you bake!  Easily preserved in the freezer, you can whip up the batter and frosting when you have time, and bring them back to life for each of the Halloween parties you'll attend -you party animal. Friends, coworkers, your child's 4th grade class are all guaranteed to love these moist and flavorful treats!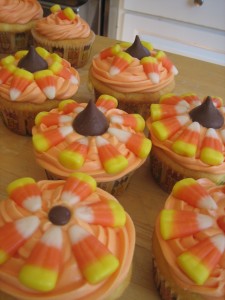 Want to have even more fun in the kitchen? Let your inner mad scientist out –just for a little while –and enter your most decorated batch of Pumpkin Spice Cupcakes with Cream Cheese Buttercream Frosting in our Halloween Cupcake Photo Contest! Spiders, ghosts, pumpkins, zombies, skeletons, and other creepy-crawlies are all invited to take part, though design is entirely up to you. Cupcakes will be judged on presentation, creativity, and overall visual appeal. The winner will receive a $50 Gift Card to Sur La Table, one of our favorite cooking stores!
Pumpkin Spice Cupcakes with Cream Cheese Buttercream Frosting
This crowd-pleasing recipe can also be found in our Dessert Recipes section!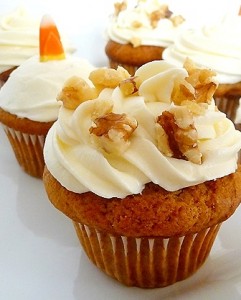 Ingredients
Cupcakes:
2 cups granulated sugar
1 1/4 cups canola oil
1 15oz can of pumpkin
4 eggs
2 cups all-purpose flour
1 ½ teaspoons baking soda
1 ½ teaspoons baking powder
2 ½ teaspoons cinnamon
½ teaspoon ground ginger
¼ teaspoon allspice
1 ¼ teaspoons kosher salt
Cream Cheese Buttercream Frosting:
1 stick butter
1 8 oz. package of cream cheese
1 one-pound box powdered sugar
2 teaspoons vanilla
½ teaspoon kosher salt
Methods/Steps
Preheat oven to 350ºF.
Cake: Cream together granulated sugar, oil, pumpkin and eggs until well mixed, about 2 minutes.  In a bowl, sift together flour, baking soda and powder, cinnamon, ginger, allspice, and salt.  Add to the wet ingredient and mix until combined and smooth, about 30 seconds (but don't over mix).
Bake: Line muffin tins with cupcake liners.  Pour batter into the cupcake liners and bake at 350 for 12 minutes if making mini cupcakes or 15-20 minutes if making larger cupcakes (or you can make it into a cake by pouring the batter into a greased 10×13 pan and baking for 35-45 minutes).  Cool completely on a cooling rack.
Buttercream: Beat butter and cream cheese on high speed for 2 minutes. Add sugar, vanilla and salt.  Mix until smooth. Frost each cupcake generously with frosting. 
Decorate and serve. Makes 24 regular size cupcakes or 48 mini-cupcakes
For more super simple Holiday desserts and appetizers, check out our Holiday Recipes section. Speaking of the holidays, check out our just-posted Thanksgiving and Holiday Appetizer cooking classes, available in San Francisco, Chicago and Seattle this fall and winter.