Summer's finally here! Parties That Cook is so excited to pull out our grills and host a barbecue (or ten)! We've rounded up 10 of our favorite summer appetizer recipes, and now we're putting you to work. Whip up any combination of these tasty bites and bask in the glory of being the Host with the Most. Throwing a summer party can be stressful (to say the least) but with these 10 simple appetizer recipes in your back pocket, you're off on the right foot!
Little Fish Tacos with Tomato Salad and Chipotle-Lime Crema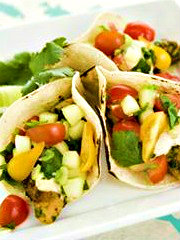 If you love fresh (and easy!) seafood, we've got just the right dish for you. Our fish tacos are a fresh way to spice up any summer get-together. Fresh cilantro will give these tacos the little kick your fiesta needs to get started!
Cornbread Tartlets with Ricotta and Tomatoes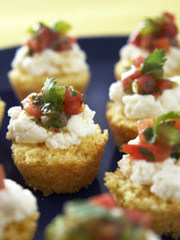 Cornbread can be more than just a side! Add fresh tomatoes and ricotta to a classic cornbread recipe, and you've got a whole new dish! With a pinch of fresh cilantro, these tartlets will knock you off your feet.
Zucchini Pancakes with Feta, Capers and Mint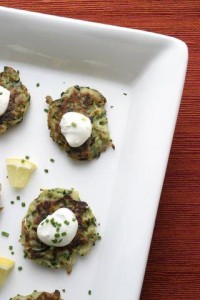 Pancakes for an appetizer? Why, yes! These savory mini pancakes are far from your boring typical breakfast pancake. Zucchini adds just the touch of color your summer soiree needs. Top this delicious dish with yogurt and mint to bring out fresh flavors that scream summer!
Crostini "Caprese" with Tomatoes, Mozzarella and Chocolate Balsamic Reduction
Who said chocolate was only for dessert? Add fresh mozzarella, tomatoes and garlic bread, and you've got one delicious appetizer. Fresh tomatoes are a summer staple, so be sure to grab some at your local farmer's market! We recommend a baguette for the crostini but you can experiment with your favorite bread.
Mini Gyro Pita Pockets with Grilled Lamb and Tzatziki Sauce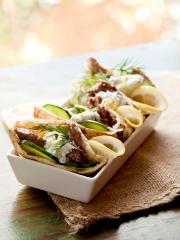 Take a summer trip to Greece, or just have a gyro! These scrumptious appetizers are light enough not to ruin an appetite, but satisfying enough to hold you over for the main course. We made ours with Lamb so they're tender and packed with loads of flavor, but you can easily substitute the meat of your choice.
Barbecued Oysters On The Half Shell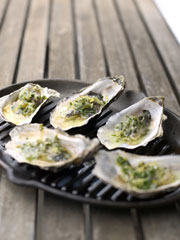 Oysters are an easy (and fast) way to offer guests an amazingly fresh appetizer. Raw oysters might scare off some guests, but barbecuing means everyone at the party can enjoy the delicious flavors.
Griddled Corn Cakes with Bacon and Sour Cream
The best things in life are topped with sour cream and sprinkled with bacon (YUM). Standing in at 2", these little fellas bring more to the table than one of summer's most popular ingredients formerly (and currently) known as Corn.
Bacon-Wrapped Peaches with Blue Cheese and Balsamic-Honey Glaze

Peaches wrapped in bacon. Need we say more? When Sweet and Savory battle it out in one dish, we all win. (Seriously, who doesn't love bacon!?) With this great combination of flavors your guests (and the cheese) will melt for another taste.
What's more perfect for summer than skewers?? These tender lovin' lamb skewers are a great start to any summer bash. Kick off your next party with fresh Mint Pesto!
Guacamole with Nectarines and Corn
Feeling festive this summer? Throw on a sombrero, an apron, and whip up our delicious seasonal Guacamole with a twist! Fresh nectarines help this classic Mexican dish stand above the rest. Good luck sharing!