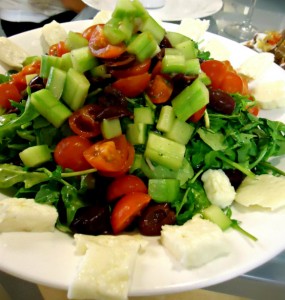 Memorial Day Weekend: Here.
Swim Suit Season: Fast-approaching.
Easy Recipe That Will Prepare You For Both: You Got It!
This Greek Salad makes the perfect side (or entrée, if you're into that vegetarian stuff) for your Memorial Day barbecue. You can prepare the simple dressing in advance, if you're on the go, and just re-mix when ready! The understated flavor of the dressing really lets the ingredients shine. Cherry Tomatoes and Kalamata Olives balance each other out, while Cucumbers add a crisp texture to the mix. The best part: you won't feel left out of the grilling festivities! Addictively delicious Halloumi Cheese is best served hot off the grill.
Looking for more fun (edible) things to throw on the grill this weekend? Check out this unbelievably relevant blog from last year! 20 Unconventional Summer Grilling Ideas
Greek Salad with Grilled Halloumi Cheese and Kalamata Olives
This recipe can be found in our Soups, Salads, & Pasta Recipe Section!
Ingredients
Dressing:
2 Tablespoons shallots, finely chopped 1 teaspoon oregano, chopped
2 Tablespoons lemon juice
2 Tablespoons red wine vinegar
1 teaspoon Dijon mustard
1/2 cup extra-virgin olive oil
1/2 teaspoon kosher salt
1/4 teaspoon freshly ground black pepper
1/4 teaspoon sugar
Salad:
1 pint cherry tomatoes cut in half or 3 medium heirloom tomatoes (if in season)
1 medium English cucumber, peeled, seeded and cut into 1/2-inch dice
1 cup Kalamata olives, pitted and sliced lengthwise
9 ounces Halloumi cheese, drained and patted dry
1 Tablespoon olive oil
4 cups baby arugula, washed and dried
Methods/Steps
Prepare Ingredients: Finely chop the shallots and the oregano and place into a medium bowl. Juice the lemon into the bowl. Add the red wine vinegar and the mustard and whisk to combine well.
Emulsify Dressing: Slowly whisk the olive oil into the bowl. Season the dressing with the salt, pepper and sugar. Taste and re season if necessary.
Prepare Salad Ingredients: Cut the cherry tomatoes in half (or in 1" dice) and the cucumber into cubes. Place into a bowl. Pit the olives, slice them lengthwise and add them to the bowl. Set aside.
Grill Cheese: Preheat grill pan. Slice the Halloumi into 8 equal pieces. Brush with olive oil. Grill until grill marks form, about 30 seconds per side. Transfer to a cooling rack. Slice into bite size pieces if desired.
Plate Salad: Lay out all of the first course plates in a single layer. When you're about ready to eat, toss arugula lightly with half the dressing. Divide arugula among salad plates. Toss the tomatoes, cucumbers and olives with some of the dressing and evenly distribute among plates. Distrubute the Halloumi, wipe the rim clean and serve immediately.
Serves/Makes
Serves 8