I'm not sure if it's the upcoming America's Cup races, Columbus Day, or maybe flashbacks of Lady and the Tramp, but Parties That Cook has decided to spice up its Date Night couples cooking classes. Come October, we're taking guests on a virtual trip to Italy! Previously international menus of small plates will become themed Italian menus — at least for the first round of regional menus. And what better way to get you amped for a new class format than by sharing one of our favorite recipes from the class?! Find me someone who doesn't enjoy fried mozzarella, and I will…call them crazy. You really have to try these ooey gooey bocconcini bites to understand. When they're this easy to make, what's stopping you?
Fried Mozzarella Bocconcini with Spicy Tomato Sauce Recipe
This recipe can also be found in our Appetizer Recipe Library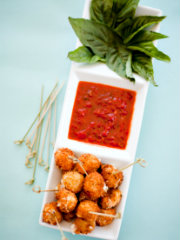 Ingredients
Sauce:
1 Tablespoon extra virgin olive oil
2 garlic cloves, minced
1/2 teaspoon red pepper flakes
2 cup San Marzano tomatoes, chopped with juices
1/2 teaspoon dried oregano
1/2 teaspoon kosher salt
1/4 teaspoon black pepper
10 basil leaves, chopped
Bocconcini:
3 cups canola
1 pound mozzarella bocconcini (about 24 pieces)
½ teaspoon kosher salt
Breading:
3 eggs
1/2 cup milk
1 ½ cups all-purpose flour
1 1/2 cups Italian bread crumbs
1 1/2 cups Panko bread crumbs
1 ½ teaspoon kosher salt
Toothpicks
Methods/Steps
Sauce: In a saucepan over medium heat, warm olive oil. Add garlic and pepper flakes; cook 1 minute. Add crushed tomatoes, oregano, salt and black pepper; simmer 10 minutes. Remove from heat and add the basil. Transfer to a small bowl and garnish with a sprig of basil.
Bocconcini: In a frying pan or wok, heat canola oil to 350ºF. Preheat oven to 200ºF. Drain cheese; pat dry. Sprinkle with salt.
Breading: In a bowl, whisk eggs and milk. In a second bowl, put flour. In a third bowl, combine the Italian and Panko bread crumbs. Divide the salt between each of the three bowls and mix well. Roll cheese in flour, dip into the egg mixture then lastly coat with the bread crumbs. Be sure to coat the bocconcini well, going back over a second time on each ingredient if need be.
Fry: Fry cheese in batches until golden, about 1 minute. Drain on a cooling rack set over a sheet pan. Keep warm in the oven until ready to eat. Insert toothpicks and serve warm on a platter with the tomato sauce garnished with basil.
Serves/Makes
Makes 24
Recipe created by Parties That Cook® | www.PartiesThatCook.com.