This 4th of July, celebrate America with your best friend, and ours, the grill. We've already given you about 20 unconventional grilling ideas, so today we'll go the more traditional route — for America. What's more American than Grilled Skirt Steak? Nothing. Except maybe that Eagle above. In any case, this recipe for mouthwatering balsamic-marinated grilled skirt steak will be the star of any grill-tastic barbecue!
Balsamic-Marinated Grilled Skirt Steak with Herbed Bread Crumbs Recipe
This recipe can also be found in our Main Dish Recipe Section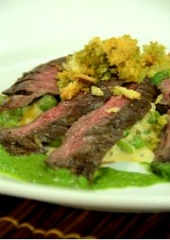 Ingredients
Skirt Steak Marinade:
2 pounds skirt steak, trimmed
1/2 cup balsamic vinegar (good quality works best)
1 sprig rosemary (about 10 inches), cut into pieces
3 cloves garlic, peeled and minced
2 1/2 teaspoons kosher salt
1/2 teaspoon black pepper, ground
1/4 cup extra virgin olive oil
1 Tablespoon Canola oil (for grilling meat)
Bread Crumbs:
1 pound loaf focaccia, torn into small pieces
3 Tablespoons extra-virgin olive oil
Vinaigrette:
3 large shallots, peeled and sliced
3 Tablespoons champagne vinegar
1 lemon, zested and juiced
2 Tablespoons capers, drained
1 clove garlic, minced
1/2 bunch fresh chives, chopped
1/2 bunch basil, chopped
1/2 bunch parsley leaves
1/2 cup extra virgin olive oil
1 teaspoon kosher salt
Methods/Steps
Preheat oven to 375°F.
Trim Steak: If not already done for you, trim any excess fat and silver skin from the steak. Cut each long piece of skirt into about 6oz pieces.
Make Marinade: Combine the balsamic vinegar, rosemary, garlic, salt and pepper in medium bowl.  Then add olive oil. Working in 2 batches with an instant marinator, place the steaks into the marinator and pour the marinade over the steaks and turn to coat. (Alternatively, you can cover and refrigerate overnight.) Bring to room temperature before grilling.
Grill the Meat: Remove the steaks from the marinade and pat very dry with paper towels. Heat a ridged grill pan over high heat until very hot OR prep your outdoor grill. Brush the grill with a bit of canola oil. For medium rare to medium doneness, sear the steaks on each of their 4 sides until golden brown in color, about 2-3 minutes per side. Helpful Tip: For rare meat, cook steak for less time, to an internal temperature of 125-130ºF; for medium rare, 135ºF. For more well-done meat, transfer seared steaks to a sheet pan and finish in oven for approximately 5 more minutes or until you reach the desired doneness. Let steaks rest for 15-20 minutes before serving, as they will continue to cook a bit as they rest. Resting also prevents "drying" out.
Make Bread Crumbs: Gently coat bread pieces with the olive oil.  Lay the crumbs out onto a sheet pan and bake until the crumbs are the color of strong tea, at 300ºF for about 30 minutes. (Note: Don't rush this step. If the bread is too pale, or not dry enough, the pieces will get soggy when you pour the dressing on them). Cool completely. Place the toasted bread into the bowl of a food processor and pulse just until the bread is cut into about 1/4 inch pieces.
Make Vinaigrette: In a medium bowl, mix the shallots with the vinegar and the lemon juice. Let stand for 10 minutes. Transfer shallot mixture to the bowl of a food processor or blender. Add the lemon zest, capers, garlic, chives, basil, parsley, olive oil and salt. Pulse until dressing is smooth. Divide the vinaigrette, reserving one half for garnish. Set aside.
Serve: Place a steak (sliced against the grain or served whole) on a serving plate. Right before ready to serve, slowly add the dressing to the cooled bread crumbs a little at a time (you may not need all of the dressing.) Place a heaping spoonful of the breadcrumbs on the steak and garnish with reserved vinaigrette. Serve.
Serves/Makes
Serves 8