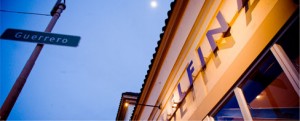 Take a break from the holiday festivities and grab a date or a group of friends and treat yourself to a delicious meal. Bibby is constantly being asked about her list of top San Francisco restaurants and there's no perfect time like the present to try one of her favorites. Or give a gift certificate as the perfect holiday gift! Here is her list of favorite local, neighborhood spots, wine bars and large scale restaurants.
A-16 – (Marina) Perfect for pizza fans and wine aficionados. The southern Italian-inspired menu features authentic Neapolitan pizza, fresh pasta and house-cured meats.
Da Flora – (North Beach) Small but romantic, this rivals any good Italian restaurant in North Beach.
Delfina – (Mission) The menu changes daily, but the pork sugo with pappardelle is a definite must try.
Rose's Cafe – (Cow Hollow) This bistro-café offers sidewalk tables and a bakery with a daily selection of pastries, desserts and breads.
54Mint – (SOMA) Rustic Italian eatery and deli.
Conduit – (Mission) Contemporary American with French and Italian influences.
Terzo – (Cow Hollow) Seasonal Pan-Mediterranean menu featuring small and large plates.
Aziza – (Outer Richmond) One of the best, if not the best Moroccan restaurant in the city. The menu is California influenced and offers organic and locally produced ingredients.
Sushi Ran – (Marin) Fusion of traditional Japanese and Pacific cuisine.
Picco – (Larkspur) Pizza and homemade ice cream with an eclectic wine selection.
Isa – (Marina) French tapas that are elegant, yet straightforward.
Pizzetta 211 – (Richmond) Amazing pizzas with only 4 tables, so go early. Cash only.
1550 Hyde Cafe and Wine Bar – (Russian Hill) All organic and sustainable; a member of the Slow Food movement. Tuesdays are free corkage nights.
Chez Panisse – (Berkeley) A neighborhood bistro and a Bay Area favorite since the 70s. Seasonal fixed dinner
menu with sustainably-sourced, organic and seasonal ingredients.
Zuni Café – (Upper Market) Seasonal organic ingredients that incorporate traditional regional French and Italian cuisine. Two words: roast chicken!
Fresca – (Pac Heights) Peruvian gourmet with a gastronomic approach.
Citizen Cake – (Opera district) Known for their whimsical touch, the retail bakery/café features tons of baked goods.
Tartine – (Noe) Delicious bakery that is perfect for breakfast or lunch.
Bar Tartine – (Mission) Cozy spot with a great brunch menu.
Foreign Cinema – (Mission) Daily menu changes of California/Mediterranean cuisine in an industrial chic setting. Foreign and independent films are screened in an outdoor courtyard.
Destino – (Market Street) South American with a contemporary twist. The wine list features selections from South America, Spain and California.
Universal Café – (Mission) A favorite brunch destination with ingredients from environmentally sustainable farms and ranches.
Piccino – (Potrero) Seasonally driven menu  from local and organic purveyors. The coffee bar is three doors down.
DOSA on Fillmore – (Pac Heights) Eco-friendly restaurant featuring South Indian 'home-style' cuisine with an innovative interpretation.
Burma Superstar – (Inner Richmond) Burmese at its best. Worth the wait in line.
OTD – (Pacific Heights) Well prepared Vietnamese cooking in a modern setting.
Kasa – (Castro) Inexpensive home-style Indian.
Flour + Water – (Mission) Simple and authentic food like hand-rolled pastas and cured meats are all done in house. Their mantra is the triple r: refurbished, repurposed and reclaimed.
Mamacita – (Marina) A marry of well-known Mexican street food and family dishes with sustainable, local ingredients.
Bar Jules – (Hayes Valley) Small and cozy with produce from small farmers and sustainable meat and fish.
Gitane – (Downtown) Simple bistro fare of the Basque region in a modern, funky setting.
Wine Bars of Choice:
Hotel Biron – (Opera district) European style wine bar with a tasty cheese menu.
Hidden Vine – (Downtown/Nob Hill) Very, very cozy and romantic.
For a Large Scale Restaurant:
Spruce – (Laurel Heights) Contemporary American cuisine with a temperature controlled curing room for its in-house charcuterie program.
Quince – (Financial District) Newly located to Pacific Ave. It's upscale Italian at this high-end neighborhood favorite.
Kokkari – (Jackson Square) Greek with a French twist. Great ambiance in its European old-world setting.