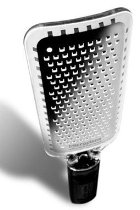 This season of Bravo TV's Top Chef may be winding down (time to flip over to American Idol), but that doesn't mean you should abandon your gourmet aspirations. Do you have what it takes to be a "top chef" in your own kitchen? Compare and see how your kitchen equipment measures up to our list of kitchen gadget must-haves:
1.  Microplane – Perfect for zesting citrus to add bursts of flavor
2.  Bench Scraper – Ideal for cutting and scooping up foods into your pot or breaking the skin off of cloves of garlic
3.  Garlic gripper – Simplifies garlic preparation by removing the skins with a roll of the hand
4.  Knives – Any chef would be lost without a quality set of knives
5.  Instant marinater – Takes the time and energy out of marinating meats
6.  Shrimp deveiner – Makes this tedious task a snap
7.  Reamer – Perfect for getting every last bit of juice out of citrus fruits
8.  Food processor – Helps prep nearly any meal
9.  Blender – Great for mixing sauces, marinades or dressings
10.  Stand-mixer – Makes baking a breeze
11.  Silicon spatula – Ensures you are able to use all of the contents of your mixing bowl
12.  Pastry brush or marinade brush – When heat resistant, these make adding extra flavor a snap
For more kitchen tool essentials, visit our Amazon store.