As a student, I feel like my summers last about as long as a three-day weekend. With that in mind, it surprised me how many people are making plans for their Labor Day weekend. Trips to the mountains or the lake may not be in everyone's budget but a "stay-cation" party right in your own home probably is! Take advantage of your last few warm summer nights and enjoy an intimate gathering or a big bash to end your summer and start your fall on the right foot.
Labor day was originally created in the 1800's to celebrate the hard work of laborers, so why not honor your friends (and yourself!) for a summer well done, and toast to a successful autumn. Your Labor Day holiday party could have a tinge of patriotism, but should be more concentrated on an Indian Summer fall theme. To accomplish this, use warmearth tones for your party. For an evening party, dark red table cloths and soft lighting would be perfect for the relaxing mood of a Labor Day holiday party. For a daytime party, organize games for the active, and set up hammocks and loungers for guests relishing the original theme of the holiday.
Some great starting ideas for your Labor Day holiday party could be back to school, neighborhood block party, or a beach party. Take a trip back to the golden years with music that you listened to in high school. Also, no need to splurge on fancy food, just have finger food and Chex mix for guests to munch on while reliving the good old days. A neighborhood block party would be a great opportunity for everyone to get together before the busy schedules of work and school kick back in. Grilling out and having a potluck style party will make everyone feel a part of the group. Or better yet, host a Labor Day cooking party and get your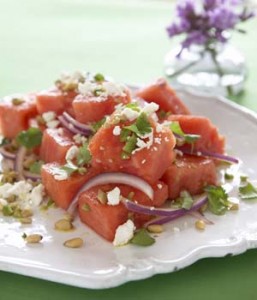 guests cooking together. A beach party doesn't necessarily have to take place on a beach! Lay out big beach towels and throw your drinks in a cooler for a relaxed end of the summer fiesta.
Here are some great recipes you can use to wow your guests:
Salad of Heirloom Tomatoes, Corn, Ricotta Salata & Herbs Recipe
Salad of Watercress, Watermelon, Ricotta Salata, and Pine Nuts Recipe
Cinnamon and Coriander Spiced Skirt Steak Recipe
Blueberry Buckle with Aunt Polly's Hot Cream Sauce Recipe
Contributed by Leigh Hermansen