So you're about to go a little overboard on Easter candy. Don't lie. It's probably best if you accept the inevitable: hitting every major grocery store within an 8 mile radius from your house the day after Easter so you can pounce on those precious candy sales. (Not that I know from experience.) Peeps, Cadbury eggs, chocolate bunnies and jelly beans will each play a role in your epic sugar crash. Prepare yourself with these super healthy, super delicious Vietnamese Spring Rolls! Consider these bundles of fresh veggies your personal Easter detox regime. Jicama and grapefruit come together to create a much more exciting meal than any grapefruit diet. (This I know from experience.)
Fresh Vietnamese Spring Rolls with Jicama and Grapefruit Slaw
This recipe can also be found in our Appetizer Recipe Library!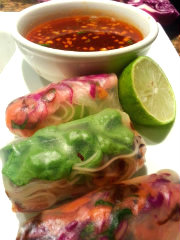 Ingredients
Fried Shallots (makes about 1 cup):
5 shallot cloves, peeled and thinly sliced
1/2 cup canola oil (may need more)
Mandolin
Nuoc Cham Dipping Sauce:
1 Tablespoon Sri Racha sauce
2 cloves garlic, minced
1/4 cup sugar
1/4 cup rice wine vinegar
1/4 cup water
2 Tablespoons fish sauce (substitute with soy or tamari sauce for vegetarian/GF option)
2 Tablespoons shallot oil (see above) can substitute plain canola oil
Filling:
5oz uncooked rice vermicelli
1/2 head of red cabbage, thinly sliced, about 4 cups
2 large carrots, grated, about 2 cups
1/2 small jicama, grated, about 2 cups
1/2 cup scallions, chiffonade
1/2 cup cilantro leaves, chiffonade
1/2 cup of Thai basil or regular basil leaves, chiffonade
1/2 cup mint leaves, chiffonade
3 large ruby grapefruit, peeled, membranes and seeds removed
5 small pieces of butter lettuce, ribs removed and torn into 2×3 inch pieces
1/2 cup unsalted peanuts, toasted and chopped
20 round 6-inch Vietnamese rice paper (bring extra in case of breakage)
Methods/Steps
Fry Shallots: Peel the shallots. Using a mandolin, slice the shallots into paper-thin slices. Add canola oil to a medium sauté pan set over medium high heat. The oil should be about 1" deep. When the oil is shimmering, add the sliced shallots. Using a slotted spoon or strainer, stir continuously to ensure the shallots brown evenly but don't burn. Once they are uniformly light brown, remove immediately. Drain on paper towels. The limp shreds will eventually crisp up. Save the cooking oil.
Make Sauce: In a small bowl, mix all dressing ingredients together. Set aside.
Prepare Noodles: Cover the rice noodles in boiling water and let steep until soft, about 2 minutes. Drain and rinse in cold water. Drain well and toss noodles with 2 Tablespoons of Nuoc Cham. Set aside.
Make Slaw: Using a food processor or mandolin, shred the cabbage. Peel and grate the jicama and carrots on a box grater. Place all of the veggies into a large bowl. Chiffonade the scallions and herbs and add to the bowl of veggies.
Segment Grapefruit: Remove the skin of the grapefruit with a knife be sure to remove all skin and pith. Cut into the peeled grapefruit to remove the segments from the membrane. Pick out the seeds and add the grapefruit into the bowl of slaw. Pro Tip: add the juice to the dipping sauce for extra flavor. Add 3 Tablespoons of the Nuoc Cham to the slaw and mix well to combine.
Finish Filling: Remove ribs from butter lettuce and tear into 2 x 3 inch pieces each, set aside. Toast and chop the peanuts.
Prepare to Assemble Spring Rolls: Set out all of the ingredients in a line as follows: Rice paper, lettuce, noodles, peanuts, shallots and slaw. Line a baking sheet with a lint free damp towel (or paper towel) and have another damp towel ready to cover the rolls. Fill a large sauté pan with 2 inches of hot water and place near rice paper.
Assemble: Working with one sheet of rice paper at a time, dip the disc into the hot water. Let it sit for about 5 seconds. Remove it and spread out flat on a cutting board. Lay a leaf of lettuce over the bottom third of the rice paper. The following ingredients should all fit onto this little piece of lettuce. Lay a thin layer of rice noodles on top of the lettuce. Top with a sprinkling of peanuts and shallots. Lastly, place a tablespoon of the slaw on top. Fold the left and right side over the filling. Holding the sides in place, fold the bottom flap up and roll the roll up into a tight cylinder. Lay the rolls flap side down on the moistened towel and cover with another moist towel until ready to serve (or cover tightly with Saran wrap). Patch any broken areas with small pieces of soaked, rice paper. Repeat, replacing the water as needed with hotter tap water.
Serve: Place rolls onto a platter with the dipping sauce.
Serves/Makes
Makes 20-24 Rolls
Recipe adapted by Parties That Cook www.PartiesThatCook.com from Chef Linda Tay Esposito.