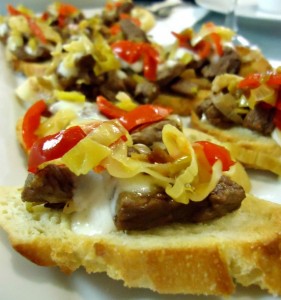 Feeling weak on day 10 of your soup & salad diet? Not to tempt you, but sounds like you need a tasty break! Try our Philly Cheese Steak Bites with Peppadew Peppers. The creamy, gooey, melty cheese sauce (homemade, might I add?) is a far cry from "wit or witout whiz". One bite is sure to tantalize your taste-buds and leave you wanting more. Make a batch for yourself, serve them as an appetizer at your next party, or see them in action at our Date Night couples cooking class! Just make sure you don't ask for ketchup.
Consider yourself a cheese lover? Grab a date and meet others like you at our Valentine's Date Night for Cheese Lovers! Take a peak at the sample menu, and there's no going back.
Philly Cheese Steak Bites with Peppadew Peppers
This recipe can also be found in our Appetizer Recipe Library
Ingredients
Steak:
1 pound piece of flank steak, trimmed of fat, semi frozen if possible
2 teaspoons kosher salt, divided
1/2 teaspoon freshly ground black pepper
3 large leeks, whites only, sliced thin and washed
3 garlic cloves, minced
10 peppadew peppers, halved and thinly sliced
2 Tablespoons olive oil, divided
1 1/2 teaspoons sherry vinegar, divided
Gruyere Cheese Sauce:
1 cup Gruyere cheese, grated
1/4 cup Parmigiano-Reggiano, grated
1 Tablespoon unsalted butter
1 Tablespoon all-purpose flour
1 1/2 cups whole milk
1 teaspoon kosher salt
1/4 teaspoon freshly ground black pepper
Crostini:
1 baguette, sliced into 1/4-inch slices
1/4 cup olive oil
2 teaspoons kosher salt
Methods/Steps
Butterfly and Slice Meat: Lay the steak on a work surface. Press one hand flat on the meat to steady it. Using a long, sharp knife, butterfly the flank steak. Open the flank steak like a book then cut it all the way through into two thin pieces. Turn the thin pieces of steak so the grain runs from left to right. Slice the meat into strips about 2 inches long and as thin as possible (semi frozen meat will help get a very thin slice). Season the sliced meat well with half of the salt and all of the pepper. Set aside.
Slice Aromatics: Cut the dark green end off of the leeks. Cut the leeks in half lengthwise through the root and then slice into 1/4 inch half moons. Place leeks in a bowl full of water and agitate well to remove any sand. The sand will sink to bottom of bowl. Leave leeks in the water until next step. Finely mince the garlic and set aside. Halve the peppadew peppers and thinly slice as well. Set aside.
Cook Aromatics: Heat a large sauté pan over high heat. Add half of the oil to the pan. Lift the leeks from the water and add to the hot sauté pan. Add the rest of the salt to the pan and sauté until they start to caramelize a bit, 2-3 minutes. Add in the garlic and continue to sauté for another 30 second to 1 minute. Add half of the vinegar and mix well. Turn off heat and stir in the peppers. Divide the leek mixture into two bowls. One bowl is for garnish the other is used in the next step. Reserve the sauté pan.
Cook Steak: Add the other half of olive oil to the same sauté pan and place back onto high heat. When the pan is very hot, add the steak slices and stir fry steak until it starts to look cooked through, about 1-2 minutes. Add half of the cooked leek mixture back into the pan and continue to cook steak until all liquid evaporates. Add the other half of the vinegar and cook steak until it turns golden on some edges, about 1 minute. Keep steak warm until ready to assemble bites or re warm before assembly.
Grate Cheese: Use a box grater to grate both cheeses into a bowl. Set aside.
Make Sauce: Melt butter in a small saucepan over medium heat. Using a heat proof rubber spatula mix in the flour to create a roux and cook for 30 seconds to 1 minute. The roux will look like a small ball of dough. Slowly whisk in the milk, and cook, whisking often until it boils and thickens slightly, about 4 to 5 minutes. Remove the mixture from the heat and whisk in the Gruyere and Parmesan until combined; season with the salt and pepper. Taste and re season if necessary. Keep warm until ready to use or re warm before assembly.
Make Crostini: Brush the bread slices on one side with olive oil. Sprinkle with salt. Arrange the slices on a baking sheet and cook until the slices are golden around the edges and crisp, about 10-15 minutes.
Assemble Bites: Re-warm steak and sauce if necessary. Working on the sheet pan of crostini, divide the steak mixture evenly among the crostini, about 2 -3 pieces of steak per crostini. Place a teaspoon or so of sauce on top. Garnish each bite with a teaspoon of the reserved leek mixture. Transfer bites to a platter and serve immediately.
Recipe created by Parties That Cook® | www.PartiesThatCook.com