Thanksgiving is only 2 short days away, and you might be in panic mode right about now. Some of us have their courses planned, their turkeys ordered, and their ingredients sitting neatly in their pantries. Others (the normal ones) haven't even had a chance to decide the method by which to cook the turkey they'll be fighting for in the store on Wednesday. I'm here to say, "It's OK. You will be fine."
1. You can choose a winning menu from this list of fantastic Thanksgiving recipes.
2. In 2 short days, this will all be over.
3. Leftovers. Yes.
Let's fast-forward through all this stress and over-eating and get down to the nitty-gritty: What will you be doing with all those leftovers? You will hit that wall that means you can't willingly eat another bite of your once mouthwatering holiday spread. Our answer is something that deliciously disguises your holiday bird: Roasted Turkey And Root Vegetable Pot Pie Napoleon with a Golden Flaky Pie Crust. YUM.
Roasted Turkey And Root Vegetable Pot Pie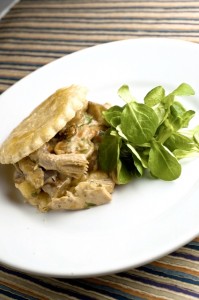 Ingredients
Turkey:
Your leftovers!
Pot Pie Filling:
3 large carrots, peeled and sliced on a diagonal, about 1 inch long and ½ inch thick
3 large parsnips, peeled and sliced on a diagonal, about 1 inch long and ½ inch thick
1 small sweet potato, about 2 cups, cut into 1 inch dice
1 pound small red potatoes, halved (quarters if they are big)
1 medium red onion, cut into large dice
1/2 cup peeled whole garlic cloves, smashed
1 Tablespoon fresh sage, chopped
1 teaspoon dried thyme
1 teaspoon dried rosemary
3 tablespoons brown sugar
2 teaspoon kosher salt
1 teaspoon ground black pepper
1/4 cup extra virgin olive oil
Veloute Sauce:
1/3 cup unsalted butter
1/3 cup flour
5 cups vegetable or chicken stock
1 1/2 cups heavy cream
2 bay leaves
2 teaspoons kosher salt
1/8 teaspoon ground black pepper
2 teaspoons chopped sage
1 Tablespoon lemon juice
Pinch of nutmeg
See Golden Flaky Pie Crust with Fleur de Sel Recipe
Methods/Steps
Prep Your Leftover Turkey: Discard the skin and shred the meat into bite size pieces and set aside.
Roast Vegetables: Place all of these ingredients into a large bowl and mix well so everything is coated evenly with the spices and herbs. Pour out onto a sheet pan and place into the oven to roast for 25 minutes or until they are golden brown. Stir vegetables half way through cooking with a metal spatula. Meanwhile make sauce.
Make Veloute Sauce: In a medium saucepan, melt the butter over low heat (don't let it burn) and add the flour. Raise the heat to medium and whisk the butter and flour together for about 2 minutes to form a white roux. Slowly pour the stock, the reserved pan juices and the cream into the roux while constantly whisking. Add the bay leaves. When the stock begins to simmer, turn down the heat to low and cook until the sauce thickens, stirring now with a wooden spoon to get into the corners of the pot. A thin skin may form; just skim it away with your spoon. Depending on your stovetop, the sauce may take 5 – 10 minutes to get to your desired consistency. Season the sauce with the salt, pepper, sage, lemon juice and a pinch of nutmeg. Remove about 2 cups of the sauce to a smaller saucepan to use when plating. To the large pot of sauce, add the turkey and the roasted vegetables. Stir gently as to not mash the vegetables.
Assemble Napoleons: Place a plain *round of crust* onto the plate. Top with a generous spoonful of the pot pie filling. Place the decorative *crust round* on top. Ladle more sauce on the plate as needed and top with the salad greens.
Serves/Makes
Serves 8
**Golden Flaky Pie Crust with Fleur de Sel and Little Gems Salad recipe here