The big weekend is here! This Sunday, many will be glued to their TV screens, watching the 84th Academy Awards. Why not hit one out of the park (like Brad Pitt's Moneyball character never could), and pair your Oscar party menu with each of the nominees for Best Picture?! Go ahead. Go crazy.
You don't have to implement ALL of the recipes below. A fun option is to only make the dishes inspired by films you think could WIN. And the nominees are…
The Descendants – Bring a little of the ocean to your party with this Ahi Tuna Tartare in Toasted Wonton Cups recipe. I can hear the waves crashing already.
Extremely Loud and Incredibly Close – Try this deliciously simple Extreme Flavors Shrimp Lettuce Wrap.. This recipe is so easy, a kid could make it. Take your inspiration a step further and make the lettuce wraps vegan, like the main character. (Substitute mushrooms and tofu for the shrimp. The flavors will be just as extreme!)
Hugo – The boy who lives in a Parisian train station would have LOVED these Crab and Roasted Red Pepper Beignets with Herbed Aioli. Yes, this recipe is loosely based on the French beignet, but the previous statement still applies.
Moneyball – This recipe for bite-sized Polpettini: Little Meatballs Braised in Tomatoes, Garlic and White Wine is right on the money. Make these at any party, and you'll hit one out of the park. They'll redifine the way you think about cooking… or was it baseball?
The Tree of Life – Add some green to the menu with this light and healthy Roasted Kabocha Squash and Arugula Salad with Toasted Hazelnuts. This winter recipe is a great addition to any party menu.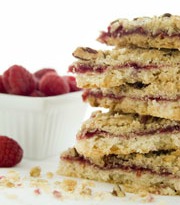 War Horse – Watch out, horse! We're stealing your oats for this Raspberry Streusel Bars recipe. Be warned, these bars are addictively good.
The Help – Instead of the infamous chocolate cake, we opted for a good ole fashioned southern staple. These crave-worthy Crispy Corn Flake and Buttermilk-Coated Fried Chicken Skewers will be a hit at any Oscar party!
Midnight in Paris – Take your cue from our Chef's Table menu: From Paris with Love. This recipe for Parmesan and Herb Crusted Filet Mignon fits the theme beautifully.
The Artist – A black-and-white film definitely calls for a black-and-white dessert. This Fiery Mexican Mocha Pudding with Cinnamon Whipped Cream is just as good as the film it's inspired by: AMAZING.