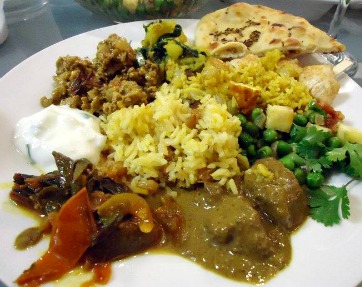 Now that we have so many people in our office, cookbook clubs have become quite the gathering. 14 Office workers mean 14 different dishes trying to share space on our dining table already crowded with large dinner plates. Luckily, this month's meeting included some really new team members (2 great interns!), so we didn't actually have 14 dishes… just 12. Come next month, with everyone cooking, we may have to get serious about inviting more guests to help us eat!
Bibby selected September's cookbook: Hamlyn's Complete Indian Cooking. Bibby's tried many Indian cookbooks over the years, and this is the only one she's found that doesn't give her the urge to "off-road" with the recipes. Don't get us wrong, there's nothing wrong with taking a route less-traveled with any given recipe. Sometimes it's just refreshing to find recipes that seem complete on their own, where all the guesswork has been taken care of for you.
This book comes equipped with vibrant photos of each and every dish – VERY helpful to those unfamiliar with Indian dishes. Unfortunately, while the recipes are written clearly,  some details are not provided. Some of us ran into issues of not being given exact measurements (how large or flat should the naan dough be?) or specific ingredients (exactly which green chilies should we be using?). Still, everything tasted amazing and the menu was deliciously balanced. Now on to the dishes – we have a lot to cover!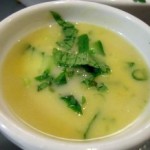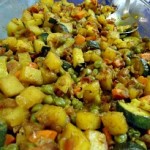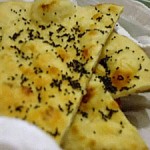 Indian Split Pea Soup – Christina brought in this chilled dish as a nice, light start to this marathon meal. Whatever she may have done to stray from the recipe, the results were simply delicious!
Balti Mixed Vegetables – Gina selected this dish for her first cookbook club meeting! The recipe didn't name specific vegetables to use in this dish, giving Gina a lot of freedom. Of course, she made the perfect selections for the season, and her dish turned out wonderfully.
Naan – Beth would have liked a little more guidance in the process. It's tough to know how fluffy your naan will be if you aren't told how flat to press the dough. Also, little guidelines are given for the cooking in a hot pan before finishing in the oven.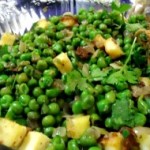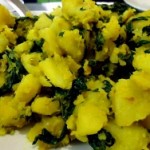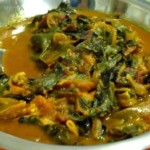 Panir Mattar – For maybe the second time ever, Erin did not select a dessert recipe! Instead, she chose a dish she lovingly referred to as Peas & Cheese. Despite a minor mishap that essentially tripled the recipe, this dish turned out great! Erin said she had enjoyed the texture of the cheese a bit more the night she made the dish, but there were no complaints around the table.
Aloo Sag – Rebecca chose this surprisingly simple recipe with surprisingly few ingredients. While she was worried about a lack of flavor, boy was it tasty! She would have liked to have been told a type of green chile to use, but took the opportunity to decrease the potential heat of the potatoes.
Greens with Tomatoes – Kelle selected this dish for her first cookbook club contribution. Though the recipe originally called for spinach, she made the executive decision to substitute rainbow chard for even more color and texture than she would have otherwise had. Excellent choice, Kelle!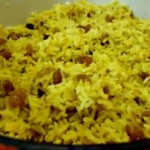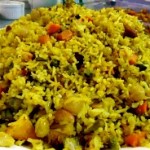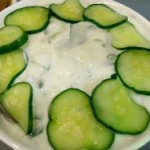 Saffron Rice – Michelene selected this recipe after having received a ton of Saffron straight from Egypt! The dished paired well with all the others and provided a nice break from the potentially overwhelming spice of the meal.
Vegetable Biriyani and Raita – Melissa made Vegetable Biriyani with the hopes of eating it all week. She went above and beyond, also making Raita, a refreshingly cool yet sneakily spicy yogurt that accompanied almost every dish perfectly.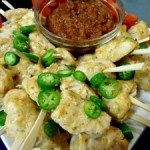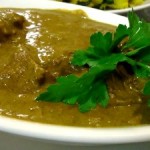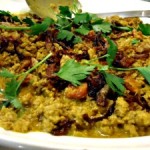 Chicken Tikka skewers and Date and Tomato Chutney – Not to be outdone, Carolyn also opted to make 2 dishes. She brought in deliciously tender skewers of chicken tikka (marinated in a yogurt mixture) that paired perfectly with her date and tomato chutney. Yum!
Beef Buffad – Despite a slight misreading of the recipe, Crissy's dish was amazing! The beef, braised in coconut milk, was incredibly tender. The sauce was also delicious!
Kheema do Pyaza – Bibby selected this out-of-the-box lamb dish and hardly off-roaded at all! As with other meat dished in this cookbook, the minced lamb is cooked in yogurt. The results: absolutely delicious!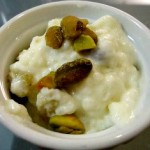 Kheer – Rosie selected this Indian variation on rice pudding. Let me just ask, "Who doesn't love rice pudding??" While she would have liked even a ballpark estimation of the amount of sugar to use, we were all happy with the outcome – not too sweet, but definitely still a dessert dish. The only problem was that this was served last, and many of us did not have much room left! At least it made a great breakfast…
In the end, we were all stuffed! After throwing the possibility of a productive afternoon out the window, we cleared the table, leaving no evidence of the feast… Unless you looked in the fridge. Next book on the list: unknown. If you have an idea for our next cookbook club, let us know! We're always open to suggestions.