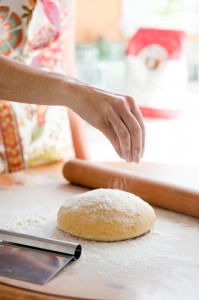 This Halloween, let's mix things up. It's time to stop drudging to the store for 10lbs of candy when we all know you only get 7 trick-or-treaters. While handing out home-made edibles might not fly in your neighborhood, these Chocolate Pretzel Cookies with Mexican Hot Chocolate Dipping Sauce are scarily delicious. Sure to be a crowd-pleaser, make these sweet treats for your next holiday party.
Chocolate Pretzel Cookies with Mexican Hot Chocolate Dipping Sauce
This recipe can also be found in our Appetizer Recipe Library!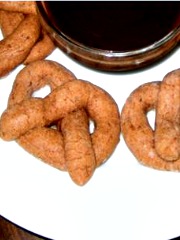 Ingredients
Chocolate Pretzels:
Nonstick baking spray
2 ounces bittersweet chocolate
1/2 cup unsalted butter, softened
2/3 cup sugar
1 egg
2 teaspoons vanilla extract
1 3/4 cups AP flour
1/2 teaspoon kosher salt
Coarse sugar, for garnish
Powdered sugar, for rolling
Mexican Hot Chocolate Dipping Sauce (Makes 2 cups):
1 cup heavy cream
1/4 cup milk
2 ounces bittersweet chocolate, finely chopped
3 ounces Mexican chocolate, finely chopped
1/2 cup sugar
1 teaspoon vanilla extract
1/8 teaspoon cayenne
1/2 teaspoon kosher salt
Garnish:
Toasted coconut
Powdered sugar
Mint sprigs
Methods/Steps
Preheat oven to 400°F.
Prepare Pans: Spray sheet pans with nonstick baking spray.
Melt Chocolate: Coarsely chop the chocolate and place into a stainless steel or oven proof bowl. Place bowl into the oven to melt for 1-2 minutes, stirring frequently. Alternately, place chocolate in a double boiler and gently melt, stirring frequently.  Let chocolate cool. For a helpful video on how to melt chocolate, go here!
Creaming: In a large bowl and using a hand or stand mixer, cream butter and sugar until light and fluffy. Add the egg, then the cooled, melted chocolate, then vanilla; mix well.
Mix Dry Ingredients: Place flour and salt in a separate bowl and quickly whisk to combine and break up any clumps. Gradually add flour mixture to the creamed butter mixture, a little at a time, and blend well. Divide the dough into fourths and wrap in plastic wrap. Press wrapped dough gently to form a thin disk and freeze or refrigerate dough until firm, about 10-15 minutes, in the freezer.
Roll Dough: Roll each disk into a 6-inch log. Cut each log into 1/2-inch slices; roll each slice into a 9-inch rope, dusting with powder sugar as needed. Place ropes onto greased sheet pans and form into pretzel shapes.  Space the pretzels 1 inch apart. Sprinkle a little bit of the coarse sugar onto each pretzel to resemble pretzel salt.
Bake Pretzels: Place sheet pans in the oven and bake for 7-9 minutes or until firm. Rotate pans halfway through baking. Remove sheet pans from oven and let cool 1-2 minutes before removing to wire racks to cool completely. Do not let pretzels sit any longer on sheet plans or they will crumble when removed.
Make Chocolate Sauce: In a saucepan, heat the cream and milk on medium until small bubbles appear around the edge.  Add the sugar, vanilla, cayenne and salt. Place chocolate in medium bowl.  Slowly whisk heated milk/cream mixture into the chocolates to melt and integrate. Return mixture to pot to keep warm over very low heat until ready to serve.
Serve: Transfer pretzels to a serving dish. Pour chocolate sauce into a decorative bowl and serve immediately.
Makes 24 Chocolate Pretzels.
Recipe created by Parties That Cook® | www.PartiesThatCook.com.