Parties That Cook is going to let you in on a little secret: We love rhubarb! From rhubarb pot de crème (thanks Rosie!) to strawberry-rhubarb pie, we all need a little rhubarb in our lives. This tasty recipe for Savory Rhubarb and Thyme Bruschetta is just another way to get our fix! If you want to try this recipe with the help of a professional chef, check out our upcoming Date Night Couples Cooking Class in San Francisco or any of our Sumptuous Small Plates events!
Savory Rhubarb and Thyme Bruschetta with Romano Pecorino Cheese
This recipe and others like it can be found in our Appetizer Recipe Library!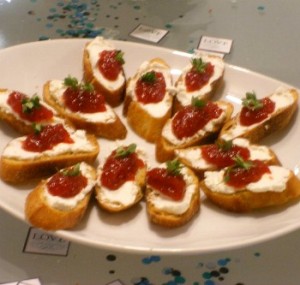 Ingredients
Rhubarb Chutney:
1 Tablespoon extra-virgin olive oil
1 small onion, finely chopped
2 garlic cloves, minced
1/2 teaspoon kosher salt
1 teaspoon apple cider vinegar
1/3 cup golden raisins, coarsely chopped
1/2 cup granulated sugar
1 Tablespoon lemon juice
1/3 cup white wine, dry; such as Pinot Grigio
1 Tablespoon fresh ginger, peeled and grated (from about a 2-inch piece)
12 ounces rhubarb, trimmed and cut crosswise, 1/4 inch thick
1 1/2 teaspoons fresh thyme leaves, plus more for garnish
Bruschetta:
1 baguette, cut into 1/4-inch thick slices
1/4 cup olive oil
1/2 teaspoon kosher salt
8 ounces Pecorino Romano cheese
Methods/Steps
Preheat oven to 375°F.
Rhubarb Chutney: Heat the oil in a medium sauté pan over medium heat. Cook onion, garlic, ginger and salt until the onion is translucent, about 5-7 minutes. Add wine, vinegar and raisins and bring to a boil; cook for 1 minute. Add sugar and stir until it dissolves. Stir in the lemon juice and rhubarb. Cook until the rhubarb starts to soften, about 5 minutes. Transfer to a food processor or blender and blend for 15-20 seconds (until blended but chunky). Return to sauté pan and then cook until thickened (about 10 minutes). Add the thyme and adjust seasoning if necessary.
Make Bruschetta: Arrange bread slices on a baking sheet. Brush the bread slices on one side with olive oil and sprinkle with kosher salt. Bake until the slices are golden around the edges and crisp, about 12-15 minutes. Set aside to cool.
Assemble: Using a vegetable peeler, shave ribbons of cheese. Put a slice of the shaved cheese on the bread, then a dollop of chutney and garnish with a sprig of thyme. Serve immediately.
Serves/Makes
Makes about 24 Bruschetta