Mardi Gras officially lands on Tuesday, March 8, this year. While it may be a bit difficult to make it over to New Orleans for the celebration, there is no reason why we all can't FEEL like we're there! This mouth-watering Parties That Cook recipe for Mini Shrimp Po' Boys with Bacon Mayo (aka the reason they call it "Fat Tuesday") will have you earning your beads in other ways…
For those who can't make it to New Orleans OR Brenda's French Soul Food in San Francisco, take your Fat Tuesday to a whole new level with your own Cinnamon Beignets with Mocha Crème Anglaise!
Mini Shrimp Po' Boys with Bacon Mayo
This recipe can also be found in our Appetizer Recipe Library!
Ingredients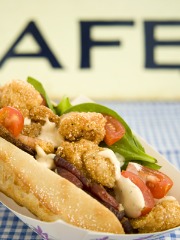 Fried Shrimp:
2 cups canola oil, for shallow frying
2 large eggs
1 cup buttermilk
1 teaspoon kosher salt
2 pounds small shrimp, peeled and deveined
1 cup flour
1 cup cornmeal
3 Tablespoons Old Bay seasoning
Sandwich Fixings:
1 pound bacon, each strip cut in half
12 good quality hot dog bun, cut in half to yield 24 mini buns
3 cups baby arugula
1 cup cherry tomatoes, cut in half
Lemon wedges
Hot sauce (optional)
Bacon Mayo:
2 egg yolks
1 Tablespoon Dijon mustard
1 Tablespoon freshly squeezed lemon juice
1/2 teaspoon kosher salt
1/4 teaspoon black pepper
1/2 cup rendered bacon fat (saved from cooking bacon)
1/4 cup canola oil
Methods/Steps
Prepare Shrimp: Put oil into a high sided frying pan and heat to 375 degrees. In a large bowl, beat egg, buttermilk and salt together. Soak shrimp in milk batter for 10 minutes. In a shallow bowl or cake pan, mix together the flour, cornmeal and Old Bay seasoning. Using tongs, remove a few shrimp at a time and coat in breading. Add breaded shrimp to the hot oil and fry them 2 to 3 minutes or until firm and deeply golden all over. Set aside onto a wire rack set on a sheet pan.
Prepare Fixings: Cook bacon strips in a skillet over medium heat until crispy. Remove from pan and reserve bacon fat for the bacon mayo.
Make Mayo: Combine the egg yolk, mustard and lemon juice in a small bowl. Whisk together well. Season with the salt and pepper. Have the bacon fat liquidy, but not hot. Combine the fat with the canola oil. Very slowly add the fat to the eggs until the mixture starts to stiffen and emulsify.  Once it starts to emulsify, you can add the fat more quickly. If the mayonnaise is too thick, just blend in 1 teaspoon of hot water to thin it.
Assemble and Serve: Spread bacon mayo on all of the buns. Place a piece of bacon on the mayo and place 2-3 shrimp in the bun. Top with arugula and 3 tomato halves. Squeeze some lemon juice on the shrimp. Serve with hot sauce if desired. Serve immediately.
Makes 24 Mini Sandwiches
Recipe created by Parties That Cook®.