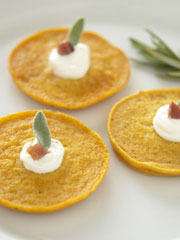 Now that we've all had a full month to recover from nightmares of Lady Gaga's meat dress, it's time to get back to the goods. Not to worry, we won't jump head first into a meaty meal –though if you fancy that idea, check out these ten ways to show your love of bacon. This recipe for Butternut Squash and Bacon Galettes will ease you back into the swing of the carnivore (or omnivore) lifestyle with just the right amount of BACON… for now.
Nothing says "Holidays" better than a Butternut Squash recipe. Really! Butternut Squash is a close relative to the beloved pumpkin -like a cousin, or maybe even fraternal twin? It's also a staple in those Thanksgiving food horns we colored every year in middle school. Sticking with the Holiday foods theme, this recipe can also be made with Sweet Potato! Check out the original Sweet Potato version of this recipe here.
Butternut Squash and Bacon Galettes
For other great Holiday appetizer ideas, visit our Appetizer Recipe Library!
Ingredients
Galettes:
6 slices bacon
1 small butternut squash yielding 1 1/4 cup of cooked pulp
1 1/2 cups all-purpose flour
3/4 teaspoon baking powder
3/4 cup heavy cream
1/2 cup milk
3 Tablespoons unsalted butter, melted
1 teaspoon sage leaves, chopped
1 teaspoon rosemary needles, chopped
2 teaspoons kosher salt
3 large eggs, room temperature
1 1/2 teaspoons lemon juice
Canola oil
Garnish:
1/2 cup sour cream
1/4 teaspoon salt
Baby sage leaves
Methods/Steps
Preheat oven to 400°F.
Cook Bacon: Put bacon on a cooling rack over a sheet pan. Transfer to the oven and cook until crisp, about 12 minutes. Let cool on the cooling rack.  Once cool, chop  into small 1/4" bits and transfer to a small bowl .  Set aside.
Cook Butternut Squash: Cut the butternut squash in half, scoop out the seeds and roast squash on a lightly oiled sheet pan, flesh face down, until a knife inserted into the thickest part encounters no resistance, about 1 hour.  Cool squash slightly and scoop flesh from shell. Measure out 1 cup of pulp.   Set the rest aside for another use.
Make Batter: In a medium bowl, mix together flour and baking powder; set aside.  Place the cooked butternut squash in the jar of a blender.  Add the cream, milk, melted butter, sage, rosemary and salt; blend for 20 seconds.  Add eggs, and process a few seconds more until fully combined.  Pour butternut squash mixture into flour mixture; fold to mix. Add lemon juice and half of the chopped bacon, reserve the rest of the bacon for garnish. Stir just to combine.  Do not over mix or the galettes will be tough.
Cook Galettes: Pour a Tablespoon of canola oil into a non-stick pan. Spread around the pan with a paper towel.  Working in batches, drop a heaping Tablespoon of batter into the pan, being careful not to overcrowd.  Cook until the underside is golden, about 2 minutes.  Turn pancakes over and cook until the other side is golden and the pancake is cooked through, about two minutes more.  Transfer to a cooling rack over a sheet pan.  Repeat with the remaining batter, adding more canola oil as needed between batches.
Garnish: Combine the sour cream and salt.
Serve: Put the pancakes on a serving platter. Top each pancake with a tiny dollop of sour cream and sprinkle with a little bit of the reserved bacon. Add a baby sage leaf and serve immediately.
Makes 24 delicious galletes.