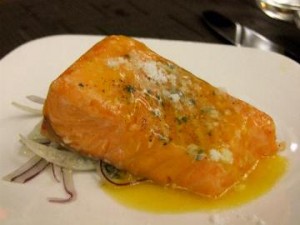 One method of cooking that has been around (primarily in France) since the 1970s is making a big comeback in the United States these days. French for "under vacuum", Sous Vide is a method of cooking that involves SLOWLY cooking food at a relatively low temperature – some recipes call for a cooking time of 72 hours! Ingredients are placed in airtight plastic bags and left in hot water (usually around 60°C or 140°F). Because the ingredients do not have direct contact with the water, when properly sealed, sous vide food retains its nutrients! Also, because the ingredients are completely submerged in the water, sous vide food cooks evenly all the way through! The results are an amazing texture and powerful flavor that has been said to be "Life Changing".
Don't worry, we are not about to make you stand over the stove for 72 hours. In fact, this recipe provides a twist to sous vide you would expect from Tim "The Toolman" Taylor. By slightly raising the water temperature, we can cut the cooking time. All without straying from the sous vide benefits! This recipe will leave you with the most evenly cooked salmon EVER. And this traditional beurre blanc, literally translated from French as "white butter", is a rich, butter sauce infused with just the right balance of mustard and tarragon.
Parties That Cook debuted this Salmon Sous Vide recipe THIS SEASON as a menu option for its team building events and cooking parties, and the feedback has been fantastic!
Salmon Sous Vide with Mustard-Tarragon Beurre Blanc
This recipe can also be found in our entree recipes section.
For more tried-and-true entree recipes, check out the PTC main dish list!
Ingredients
Salmon:
1/2 cup extra-virgin olive oil
3 cloves garlic, minced
1/4 cup flat-leaf parsley leaves, chopped
2 Tablespoons tarragon, chopped + 8 sprigs for garnish
2 teaspoons kosher salt
1/4 teaspoon pepper
8 six-ounce center cut filets of salmon, skin off, pin bones removed
Ice cubes to maintain water bath temperature
Vacuum sealer and bags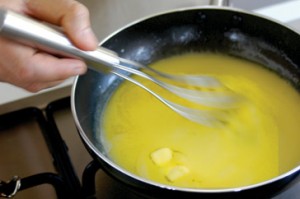 Mustard Tarragon Beurre Blanc:
1 cup dry white wine
¼ cup vermouth
3 shallots, sliced thin
1/2 cup heavy cream
2 Tablespoons Dijon mustard
1/4 cup unsalted butter (1/2 stick), cut into small cubes and kept cold
2 Tablespoons tarragon, chopped
2 Tablespoons chives, chopped
1 teaspoon lemon zest
1 teaspoon lemon juice
1 teaspoon kosher salt
Methods/Steps
Preheat a water bath to 160ºF. Keep a thermometer hooked to the water bath to ensure the temperature remains constant. Add ice cubes as needed to regulate temperature.

Salmon: Combine the olive oil, garlic, parsley, tarragon, salt and pepper in a small bowl and pour over the salmon. Massage oil all over the salmon. Transfer the salmon to  vacuum packing bags, 2 filets per bag, and seal using the food saver. Submerge the bags in the water bath and set a timer for 12 minutes. Make sure the temperature remains constant!
Make Sauce: In a small sauce pan, combine the wine, vermouth, and shallots. Bring to a boil and reduce by half. Add the cream and bring to a boil. Add the Dijon and whisk to combine. Turn the heat to low or simmer and slowly add the cold butter one cube at a time, whisking constantly. Once the butter has melted add another cube and whisk. Repeat until all of the butter has been incorporated. Strain the sauce into a small bowl, cover with plastic wrap and place over a low simmering pot of water until ready to serve. When ready to serve add the chopped herbs, lemon zest/juice and salt.
Serve: Remove the filets from the bags and place on the serving plate. Spoon some of the mustard sauce onto each filet and garnish with a sprig of tarragon.
This recipe serves 8.