Still haven't figured out what you're doing for Mom on Mother's Day? How about whipping up this yummy Asparagus Breakfast Bread Pudding with Green Garlic and Fontina? A far cry from your typical scrambled eggs, this deliciously cheesy breakfast bread pudding is sure to impress!
Want to learn how to make more delicious brunch dishes? Treat Mom to Parties That Cook's Mother's Day Brunch Cooking Class in San Francisco or Chicago! Did we mention the complimentary mimosas?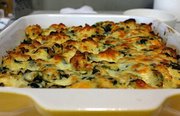 Ingredients:
1 pound French bread, crusts removed, cut into 1-inch cubes
1 Tablespoon unsalted butter
1/2 medium yellow onion, minced (about ½ cup)
1 spring leek, cleaned and chopped
2 clove garlic, minced (or 2 green garlic stalks, white part minced)
1 bunch asparagus, tough stems removed, cut into 1 inch pieces
10-ounces spinach, wilted in a dry pan, squeezed to remove water and coarsely chopped
3/4 cup medium-dry white wine, such as Sauvignon Blanc
6 large eggs
2 cups heavy cream
8 ounces Fontina cheese, grated (about 1 1/2 cups grated)
2 teaspoons fresh thyme
2 Tablespoons parsley, chopped
½ teaspoon lemon zest
1 teaspoon lemon juice
2 ¼ teaspoons kosher salt
Cooking spray
Methods/Steps:
Dry Bread: Heat oven to 375ºF.  Arrange bread cubes in a single layer on a sheet pan and bake until dry and stale-feeling, about 5-10 minutes. (Alternatively, leave slices out overnight to dry.)  Set aside.

Sauté Vegetables: Melt butter in medium skillet over medium heat.  Sauté minced onions and leek until translucent, about 5 minutes. Add garlic, asparagus, wilted spinach, and wine.  Cook, stirring occasionally, about 3-5 minutes.  Transfer to medium bowl; set aside.
Assemble: Whisk eggs in a large bowl until combined; whisk in heavy cream, half of the Fontina cheese, sautéed vegetables, thyme, parsley, lemon zest and juice and salt. Add bread. Combine then let sit for 5 minutes so the liquid can be absorbed.
Bake: Spray a 9×13 baking dish with cooking spray (or 8 ramekins). Spoon bread mixture into the pan; sprinkle remaining cheese over surface.  Bake until both edges and center are puffed and slightly golden, about 25-30 minutes.  Cool slightly; serve. Serves 8 as a main course for breakfast.
Recipe created by Parties That Cook® www.PartiesThatCook.com.