Chicago celebrates with a green river, Seattle paints its roads green, and San Franciscans will be searching for green beer in pubs all over the city.  St. Patrick's Day is coming up and if you haven't found your "something green" or if green just doesn't look good on you but you still want to be festive, here's an idea — eat your green!
Join the green theme and put together an all-green meal for a St. Patty's Day party or for the family.  This may be the one time of year when you don't have to try too hard to get your kids to eat their veggies.  We'll get you started with our GREEN Fettuccine with Arugula-Walnut Pesto and Shaved Asiago recipe.  Use spinach or any other green-colored fettuccine and you will have a wonderful belly full of green ready to absorb all that green beer to follow!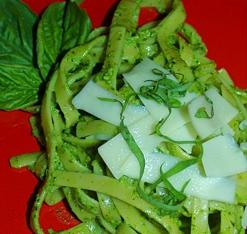 Ingredients:
Pesto:
2 gloves garlic, peeled
1 1/2 packed cups arugula
1/2 packed cup fresh basil leaves
1/3 cup walnuts, toasted
1/4 cup freshly grated Parmigiano-Reggiano
1/4 cup freshly grated Asiago cheese
1 teaspoon lemon zest
2 teaspoons lemon juice (+ plus more for seasoning)
3/4 teaspoon kosher salt
1/2 cup good quality extra virgin olive oil

Pasta:
1 pound dried fettuccine
1 1/2 tablespoons kosher salt for pasta cooking water
Garnish:
1/3 cup (3 ounces) shaves Asiago
Basil leaves, cut into thin strips
Chopped walnuts

Methods/Steps:
Make Pesto: Place the garlic, arugula, basil, walnuts, Parmigiano-Reggiano, Asiago, lemon zest/juice and salt in a food processor.  Process until a rough paste is formed.  Add the olive oil and process until the paste is smooth.

Cooking Pasta: Meanwhile, in a large stockpot of heavily salted boiling water, cook and stir pasta until tender but firm to the bite, about 10 minutes.  Drain pasta well, reserving 1 cup of pasta cooking liquid.  Transfer to a bowl and toss gently with the pesto.  Add pasta water as needed to loosen up the pasta.  Season with additional salt and lemon juice.

Serve: Spoon pasta onto a pasta plate.  Garnish with shaved Asiago, basil and walnuts. Serve immediately.  Serves 8 as first course.