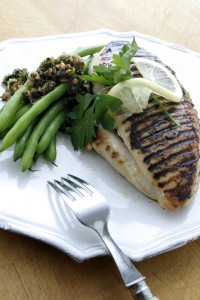 Chicken has become a staple for the all-American diet.  From the anti-chicken 'chicken mcnuggets' at McDonalds to chicken added as a pizza topping, recipes including chicken are by far the most popular. I recently found out that chicken recipes are the most searched genre of recipes on the Internet. So with this in mind, I have come up with some tips for making the perfect chicken.
Some people overdo their chicken and it becomes rubbery and dry, to avoid this, here are three ideas for making your chicken perfectly scrumptious:
Brining: Brining a chicken consists of soaking the chicken in water, sugar, salt, garlic, bay leaves, and peppercorn (or whichever mixture of flavor you would like your chicken to have). Refrigerate the chicken in this mixture for half an hour to an hour. This will give your chicken flavor and keep it moist.
Chicken under a brick: This is our owner's, Bibby Gignilliat, favorite trick when preparing chicken. By grilling chicken under a break, it flattens the meat so it will cook more evenly and also give it perfect grill marks!
Remove chicken from the oven/grill when it reaches 150 ° F: Using a thermometer, measure the temperature at the center of the meat. Once out of the oven the temperature will increase 5 more degrees. This will produce a perfectly cooked chicken!
Along with tips, I have included some delicious ways to 9 delicious recipes that give you a unique opportunity to spice up an all-American dish:
Chipotle Garlic Chicken Breasts
Chicken Breasts Stuffed with Gorgonzola, Walnuts and Figs
Latin Spice-Rubbed Chicken with Chimichurri Sauce
Crispy Prosciutto-Wrapped Chicken Stuffed with Fontina and Basil
Spiced Chicken Breasts with Cucumber and Lemon Raita
Spice-Crusted Chicken Kebabs with Harissa Yogurt Sauce
Grilled Chicken Charmoula with Herb Salad
Grilled Chicken Kebabs with Pistachio Pesto
Sear-roasted Chicken Breasts with Calvados Cream Sauce
Contributed by Leigh Hermansen