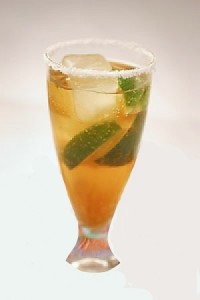 As we discovered this weekend in Austin, it's perfectly acceptable to drink beer with ice in it, so long as you add hot sauce and call it a Michelada cocktail. In the steamy hill country heat, it's hard to imagine a better solution to replenishing lost electrolytes. Beyond the speculated health benefits, this Mexican beer version of a Bloody Mary is possibly the perfect libation: spicy, salty and refreshing.
Not to be confused with the layman's canned Budweiser & Clamato aka breakfast beer (more appropriate for mobile situations like tubing), the refined Michelada cocktail is a winning combination of Mexican pilsner, lime juice, Tabasco, Worcestershire sauce, soy sauce and black pepper served on the rocks with a salt rim. The cocktail was born in 1940's Mexico when a bartender thought to enjoy his salsa directly in his beer. Unlike other 1940's inventions like vertical blinds, we're glad the Michelada is making a comeback.
Salud!
Recipe for Michelada Cocktail as served poolside @ the Hotel San Jose in Austin
1 can of Mexican pilsner-style beer (like Modelo Especial)
Juice of 1 lime
A few dashes of Tabasco
A few dashes of Worcestershire sauce
1 teaspoon soy sauce
Freshly ground pepper
Margarita salt
Rim chilled pint glass with salt, fill with ice. Add all ingredients except for the beer over ice. Pour beer slowly over ice, then stir.
For more thirstworthy drink recipes, visit our Recipes page.