We are always SO excited this time of year. The candy, costumes, turkey-fueled parades, and holiday parties are all wonderful.. But what really pushes us over the edge are all the pumpkin recipes! Sweet, savory, baked, pureed, cakes, lattes – Bring. It. On. We've compiled quite the pumpkin recipe library over the years, and it's about time we shared the wealth. Now presenting, our Top Pumpkin Recipes!
Sweet Pumpkin and Apple Cider Soup with Sage
This recipe can be found in our Soups, Salads & Pasta Section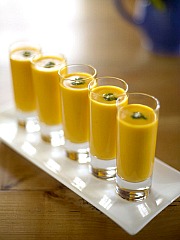 Ingredients
Soup:
1 medium sugar pumpkin or butternut squash
6 Tablespoons butter, divided in half
6 Tablespoons brown sugar, divided in half
1 Tablespoon fresh rosemary, chopped or 2 teaspoons dried
8 cups fresh chicken or vegetable stock
1 large onion, peeled and coarsely chopped
3 large carrots, peeled and finely chopped
4 large cloves garlic, peeled
1 tart apple, such as Granny Smith, peeled, cored and finely chopped
1 cup apple cider or apple juice
1 teaspoon ground ginger
1/2 teaspoon ground nutmeg
1 bay leaf
2 sprigs sage
1 1/2 Tablespoons kosher salt
1/2 teaspoon pepper
Garnish:
1/2 cup crème fraîche
1/8 teaspoon kosher salt
Fresh sage leaves for garnish
Methods/Steps
Preheat the oven to 425°F.
Roast Pumpkin: Cut pumpkin or squash in half and scoop out seeds. Place in roasting pan, flesh side up. Spread half of the butter and brown sugar among the cavities. Sprinkle with rosemary. Pour 2 cups of stock around pumpkin or squash and cover pan with foil. Roast in preheated oven, stirring once or twice, until squash is soft, about 45 minutes – 1 hour.
Sauté Vegetables: In large stockpot, melt remaining butter. Add onions, carrots, garlic, and apple and sauté until soft, about 7 minutes. Once the vegetables are soft, add the remaining 6 cups stock, remaining brown sugar, apple cider, ginger, nutmeg, bay leaf, sage, salt and pepper. Cover pot and then bring to a boil. Remove pumpkin or squash from oven, cool slightly then scoop flesh out of skins and add to stockpot. Cook for about 8-10 more.
Puree Soup: Remove bay leaf and sage from soup pot. Working in batches (filling no more than 1/2 full), puree soup in blender on high speed until very smooth and light, 2 to 3 minutes per batch. Helpful hint: you may want to hold the lid on with a towel because the soup can spit! Strain soup through fine strainer into second stock pot over medium heat.
Mix Crème Fraîche: Combine crème fraîche with salt. Set aside.
Serve: When all the soup has been pureed, bring to a boil and simmer for a few minutes to blend the flavors. Add additional seasoning if necessary. Serve soup in bowls, topped with dollop of crème fraîche and sage.
Serves/Makes
Serves 16
Extra credit: You're sure to ace your pumpkin-lover test if you try either of these delicious recipes!
Pumpkin Spice Cupcakes with Cream Cheese Buttercream Frosting Recipe – We hosted an entire Halloween contest around these bad boys last year. Let me just say, the results were DELICIOUS.
Pumpkin Pie Smoothie Recipe – Ummm, need I say more?? You've got to be crazy (or on a diet) to turn down a winner like this.