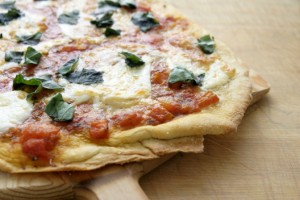 Doing big things this New Year's Eve? Hold on there, Champ. If you aren't properly prepared, a night on the town can lead to a rough morning. Parties That Cook has your tips for avoiding, or at least easing, a hangover.
-Drink water. That night AND the next morning! This may seem like common sense, but it is probably the most overlooked option for a better morning.
-Fatty foods!
Good news: That guilt-inducing burger you're eyeing can help prolong the absorption of alcohol during the celebration, giving your body more time to process the alcohol.
Bad news: It might take longer to feel the effects of alcohol on the night-of (but that's not the point of drinking, right?). Also, fatty foods technically won't help you out the morning after!
-Avoid coffee. Apologies to all those caffeine addicts, but while it will ease that headache, caffeine actually further dehydrates the body! Overall, coffee will just make your hangover worse.
-Bananas, Fruit juice, and Eggs in the morning. Potassium, energy, vitamins and minerals –Sounds good to me!
Want more info? Discovery Health has the lowdown on busted (and supported) hangover cure myths!
If you're looking for something to make for dinner on New Year's Eve, have we got the recommendation for you! This Pizzetta Margherita with Tomatoes and Basil has what it takes to help you fight the NEGATIVE effects of alcohol. And it is light enough to keep you feeling good in that gold sequin dress you can only wear one night a year. If you don't scarf down all the pizza that night, relive your college days and reheat the next morning! We promise you'll feel better than if you go for "The Ark" (pictured above).
Pizzetta Margherita: Pizza With Tomatoes & Basil
This recipe can also be found in our Main Dishes Section!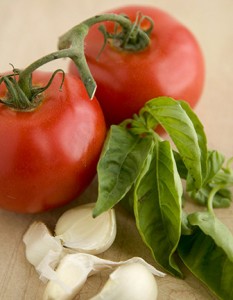 Ingredients
Dough:
1 Tablespoon active dry yeast
3/4 cup warm water (110º to 115ºF—warm to the touch like bathwater, but not hot)
2 cups all-purpose flour
1 1/4 teaspoons kosher salt
1 1/2 Tablespoons extra-virgin olive oil, plus more to coat bowl
Flour for dusting work surface
Semolina for dusting pizza peel
Toppings:
2 Tablespoons extra-virgin olive oil
2 cloves garlic, peeled and minced
1 24-ounce can of peeled, seeded and chopped tomatoes like Muir Glen brand
1 Tablespoon tomato paste
1/2 teaspoon dried oregano
1/4 teaspoon dried rosemary, finely chopped
1 3/4 teaspoons kosher salt
1 pound (16 ounces) fresh mozzarella cheese, sliced 1/8" thick
1/2 cup grated Parmigiano-Reggiano
1 cup small basil leaves, or large leaves that are torn
Methods/Steps
Preheat oven to 550ºF.
Proof the Yeast: In a small bowl, combine yeast with warm water.  (Use an instant-read thermometer for temperature accuracy.) Stir gently and thoroughly.  Let mixture sit in a warm spot until a thin layer of foam covers the surface indicating that yeast is effective, about 5 minutes.  (If bubbles have not formed in 5 minutes, discard mixture and start over.)
Make Dough: In a medium mixing bowl, combine flour and salt.  Make a well in center of flour and pour yeast/water mixture and olive oil into well. Incorporate flour a little at a time, until flour is mixed in and dough just begins to hold together.  Turn out onto a lightly floured surface.  Dust your hands with flour and knead dough gently as follows: press down on dough with heels of your hands and push it away from you, then partially fold it back over itself.  Shift it in a quarter turn and repeat procedure.  Continue kneading until the dough is smooth and elastic, 5-7 minutes.
Set Dough: Shape dough into a ball and place it in a well-oiled bowl, turning to coat it completely on all sides with oil. (This prevents a hard crust from forming that would inhibit rising.)  Cover bowl tightly with plastic wrap.  Set dough to rise in a warm, draft-free place (75º – 85ºF), until doubled in volume, about 45 to 60 minutes.
Tomato Sauce: Heat olive oil over medium heat in a sauté pan.  Add garlic and sauté for 15 seconds.  Add tomatoes, tomato paste, and dried herbs and simmer until all liquid is gone, about 5-7 minutes. Stir in salt and remove from heat. Transfer to a chilled bowl to cool for a few minutes.

Rolling and Assembly: Once dough has doubled in volume, remove dough from the bowl and cut in half with out working it.  Do not work the dough, as it will make it too elastic when you try to roll it out.  Instead, generously dust dough with flour and begin to roll out.  Do this until dough is rolled to form a 10-inch circle that is 1/4-inch thick.  Transfer it to a pizza peel that has been sprinkled with semolina. Brush pizza dough with olive oil then spread half of cooked tomatoes on the dough. Lay half of mozzarella slices on top of the tomato sauce.  Slide pizza onto heated stone and bake until golden and crisp, 8-10 minutes.  Remove pizza from oven, sprinkle lightly with grated Parmigiano-Reggiano then with basil leaves and serve immediately.  Repeat with remaining ingredients to make a second pizza.
Note: This pizza is so easy to make, you can even whip up a couple the next morning…or afternoon. If you're feeling particularly ravaged New Year's Day, feel free to use store-bought dough (we won't tell) and/or store bought pizza sauce (we won't judge).
Recipe created by Parties That Cook® www.PartiesThatCook.com
For more Main Dishes, check out our Recipes Section!